Book Title: Operation One Night Stand
Genre: Romantic Comedy
Pages: 304
Author: Christine Hughes
Date Published: 2 June 2015
Synopsis:

IT'S TIME TO CHANGE HER SEXUAL KARMA

Caroline Frost had it all-until her boyfriend banged the superskank intern, and poof! Caroline's happy little bubble disappeared. Now it's been six weeks of weeping, a mountain of ice cream, and a permanent buttprint on the couch. Enough is enough. She and her ladybits need an intervention-now.

Enter Operation: One Night Stand: Find a man who is hotness personified and have some much-needed sexy time. The only problem is that Caroline is torn between a flirtatious, well-built guy and the ridiculously hot bartender serving her shots. This was supposed to be all fun and no games, but like the perfect scotch on the rocks, no good fling finishes without a twist . . .
Review: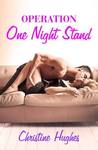 Operation: One Night Stand
by
Christine Hughes
My rating:
4 of 5 stars
I received a complimentary copy of this book from the author in return for an honest review.
This is a fun, entertaining read. I really enjoyed it.
Caroline Frost is a great character. I really liked getting to know her. She has been in a pity party ever since she found her boyfriend in bed with a work colleague six weeks before. In an effort to get her out of it, her best friends' Mel and Sarah organise an intervention, and Operation One Night Stand is born.
I started to read this book not really sure if I would like it. However, as I got further into the tale, I found myself giggling at the antics of these three women. In a way, this has a slight Sex In The City feel to it. I love the witty banter between the friends, as well as the other characters, especially Ryan and Brian. In a way, I found the plot a little predictable, but there were a few surprising twists that I didn't foresee. I love the bar scene where Brian (the bartender) and Caroline flirt for the first time, as well as the bathroom scene later. Talk about hot! *Fan's myself*
I enjoyed meeting Melody and Sarah, who are just as strong and feisty as Caroline. Sarah is Caroline's room mate and Melody is an old school friend. Ryan and Brian are gorgeous and sexy as sin. I liked both guys, though I thought Ryan wasn't quite right for Caroline. Subconsciously, I think Caroline knew it too.
This story had me smiling, then chuckling if not out right laughing at some of the situations some of the characters have gotten themselves into (the gym scene comes to mind). The sexual situations were explicit though not too erotic. However, they were all hot.
This book doesn't end with a HEA, but neither does it end in disaster. It fades out, so it is left to the reader to decide how they want the story to end. I would hope for a HEA, but life is not necessarily like that.
Christine Hughes has written a wonderful contemporary romantic comedy. This is the third book I have read by this author. I love her ability to bring the characters to life on the page. I eagerly look forward to reading more books by her in the future.
Due to scenes of an explicit nature, as well as bad language and excessive consumption of alcohol, I do not recommend this book to readers under the age of 18. However, I highly recommend this book if you love romantic comedies or contemporary romances. - Lynn Worton
View all my reviews
About The Author:
Falling in love with literature was easy for her. As a child, she was a voracious reader and loved to write. When it came time to go to college at Georgian Court University, choosing a major was easy - English Literature. In 1998, with a Bachelors in English Lit strapped to her hip, she wasn't sure which avenue to take so she went on to earn her teacher's certification and taught middle and high school English for nine years before writing her first novel.
Born in Aurora, Colorado, the daughter of an Army helicopter pilot and a stay-at home mom, she moved all over the country as a child before settling down in New Jersey. Christine currently stays home to write while her husband works and her two boys attend elementary school. Don't bother her too much during football season - she's either cheering on her boys or crying in her pint glass over yet another Jets loss.
Author Links: