Book Title: The Girl Who Chased the Moon
Genre: Literary Fiction
Pages: 272
Author: Sarah Addison Allen
Date Published: 17 February 2011
Synopsis:

Emily Benedict came to Mullaby, North Carolina, hoping to solve at least some of the riddles surrounding her mother's life. But the moment Emily enters the house where her mother grew up and meets the grandfather she never knew, she realises that mysteries aren't solved in Mullaby, they're a way of life. Here are rooms where the wallpaper changes to suit your mood. Unexplained lights skip across the yard at midnight. And a neighbour, Julia Winterson, bakes hope in the form of cakes, offering them to satisfy the town's sweet tooth - but also in the hope of rekindling a love she fears might be lost forever. Can a hummingbird cake really bring back a lost love? Is there really a ghost dancing in Emily's backyard? The answers are never what you expect. But in this town of lovable misfits, the unexpected fits right in.
Review: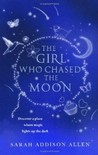 The Girl Who Chased the Moon
by
Sarah Addison Allen
My rating:
5 of 5 stars
The Girl Who Chased the Moon is a lovely tale. I enjoyed it a lot.
Emily Benedict is an interesting character. I liked her as soon as she was introduced. After her mom passes away, she arrives in Mullaby, North Carolina, to stay with her grandfather as he's now her legal guardian. Her mother never discussed her childhood, so Emily is eager to learn about it. Unfortunately, many of the residents of Mullaby blame Emily's mother for the death of one of them. As Emily delves into the mystery surrounding her mother's past, she meets the mysterious Win Coffey, whose relative died all those years ago.
This story is told through the eyes of several characters, though Emily is one of the main ones. The other characters involved are her grandfather, Vance Shelby, Julia, a young woman who owns and runs a barbecue house and bakery, Sawyer Alexander, a school mate and old fling of Julia's, and Win Coffey, a teenager with a family secret.
When I first read the synopsis in my local library, I thought that this book would be a young adult paranormal fairy tale, so I borrowed it. However, I was completely wrong - in a good way. It is a story about loss - lost love and opportunities - and love and redemption. There is magic in the pages, not just the wallpaper that changes in Emily's bedroom.
The story takes the reader on an emotional roller coaster ride, and once I began reading it, I didn't put it down until I'd finished it; I am finding it difficult to articulate my feelings about this book. Emily's journey to uncover her mother's possible role in the suicide of Wyn's uncle because of a family secret, and the sweet romance between the two teens, touched me deeply. I also loved the subplot of Julia and Sawyer's past, present and future. The author artfully pulled me into the story, and when it ended, I was left with mixed feelings - happy at the way it ended but sad that it had finished. *Spoiler* Though I would have liked to have seen what happened when Maddie met with Julia and Sawyer. Nevertheless, I was left with a bittersweet feeling.
Sarah Addison Allen has written a heart-rending, as well as a heart-warming tale that held me captive from beginning to end. I love her writing style but found the shift in viewpoints a little unsettling at first, though I enjoyed the pacing. The story flowed well too. I would definitely consider reading more of this author's books in the future.
Although there are no explicit scenes of a sexual nature, there is mention of it. However, I would highly recommend this book to young teens (13 up) and adults who love literary fiction, family sagas or romance novels. - Lynn Worton
View all my reviews
Purchase Links:
Amazon US
Amazon UK
About the Author:
Author photograph credit: Melissa Markis
Sarah Addison Allen is the New York Times bestselling author of Garden Spells, The Sugar Queen, The Girl Who Chased the Moon and The Peach Keeper. She lives in North Carolina, where her novels are set.
Author Links:

You can discover more at: