Book Title: Just Not Ready Yet
Genre: Contemporary Western Romance
Pages: 286
Author: Brooklyn James
Date Published: 1 November 2014
Synopsis:
Charlize 'Charlie' McCloud, young widow and mother, is seemingly content with her secluded life on a sprawling Texas ranch. Her moonlit horseback rides provide the perfect dreamscape to obsessively reminisce about her college sweetheart—her first and final love—Cash McCloud.
When intern Hunter Bowie arrives on her ranch to work for the summer, his engaging persona threatens Charlie's treasured reliving. Her interest in moving on as departed as her late husband, Hunter's youthful exuberance and guitar revives dreams she once laid to rest.
Hunter's presence stirs up everyone around the ranch, including her late husband's older brother, Cage McCloud. A near replica of Cash, Cage's very existence is a painstaking reminder of how much she has lost.
Unintentionally revealing the truth about Cash's death, Cage sets off a firestorm of emotions, ultimately propelling Charlie to face her future—hopefully one that includes him.
Music single to the novel Just Not Ready Yet can be streamed at
www.brooklyn-james.com
or downloaded from Amazon, iTunes & CDBaby.
Review: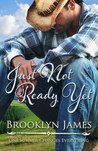 Just Not Ready Yet
by
Brooklyn James
My rating:
5 of 5 stars
This is a fantastic contemporary western romance. I loved it!
Charlize "Charlie" McCloud is a wonderful character. I liked her a lot. She is a young widow and mother, who is still mourning the death of her husband. Afraid to face the future without her college sweetheart, her world revolves around her children and the ranch. That is, until eighteen year old Hunter Bowie (pronounced like the knife), turns up and throws her life upside down. Hunter's entrance onto the scene makes Charlie realise that although her dreams of being a songwriter had been placed on the back burner, they were still there, waiting to be released.
Having read and loved another one of this author's books, I was looking forward to reading this book. I downloaded this book and started to read. I was completely hooked from the first page and didn't stop reading until I reached the end!
I have always had a soft spot for cowboy romances, but this book is so much more than just a romance. It is a story of hope and dreams, love and family. The story is told through three character's points of view: Hunter, Charlie and Cage, but Creek, a longtime ranch hand and Libby, Charlie's mother-in-law and Cash's and Cage's mother, have their say too.
The story has a few flashbacks to Charlie's and Cash's past, starting from their college days. I loved getting to know Cash in this way. I could see why Charlie would fall in love with him. He was charming and caring. The story took me on a roller coaster ride of emotions. I found myself shedding more than a few tears. A handful of tissues will be required whilst reading this book! There are some funny moments, as well as some sweet ones. I love the scene where Hunter has his musical debut at the record store and Ella and Dylan (Charlie's children) are collecting money for the cuss jar; it made me giggle. However, it's the sexual tension between Charlie and Cage that just about smolders on the page. Cage is a bit of an enigma, I would have liked to know him a bit better. He looks very much like his younger brother and Charlie finds herself attracted to him, but hating herself for it. However, Cage has been harbouring a dark secret of his own. When the secret is revealed, I found myself in complete shock; I certainly didn't see that one coming! However, love makes us promise to keep secrets, even from others we love. This can be very hard for those keeping their promise, so I fell a little in love with Cage myself. I loved watching their relationship grow and develop. I also loved the interaction between Cage and his niece and nephew. He would make a fantastic father, as he is loving and attentive towards them.
Brooklyn James has written a fantastic contemporary romance. I love her fast paced writing style, and the flow was wonderful. I am now looking forward to reading her other books as soon as I can.
Due to scenes of a sensual nature that are on the explicit side, I do not recommend this book to younger readers. However, I highly recommend this book if you love contemporary romances with sexy cowboys. - Lynn Worton
View all my reviews